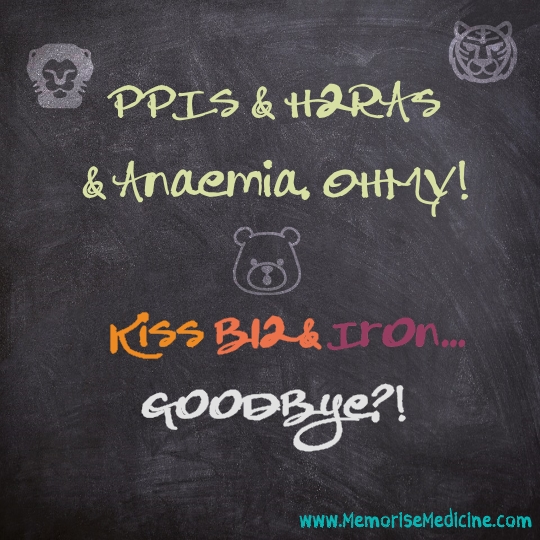 Proton pump inhibitors (PPIs e.g. Nexium® & Pariet®) and histamine-2 (H2) antagonists (H2RAs e.g. Zantac®) are frequently used for the treatment of stomach acid‐related disorders. E.g. peptic ulcer, GORD (gastro‐oesophageal reflux disease) and as prevention and or treatment of NSAIDs' upper GI adverse effects.
They both work by decreasing the amount of acid made by the stomach.
Reduced stomach acid decreases the level of ferrous sulphate (iron) in the body. And PPIs and H2RAs result in malabsorption of cyanocobalamin (vitamin B12).  We know that iron and or vitamin B12 can cause anaemia (deficiency of red cells or of haemoglobin in the blood).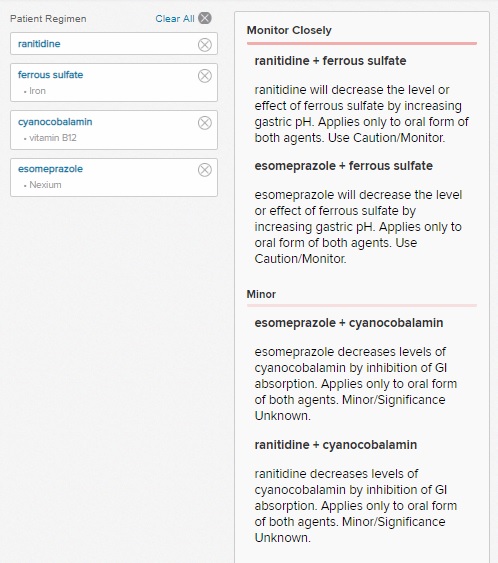 In fact, "among older adults with anaemia, approximately one third have evidence of iron, folate, and/or vitamin B(12) deficiency (1)."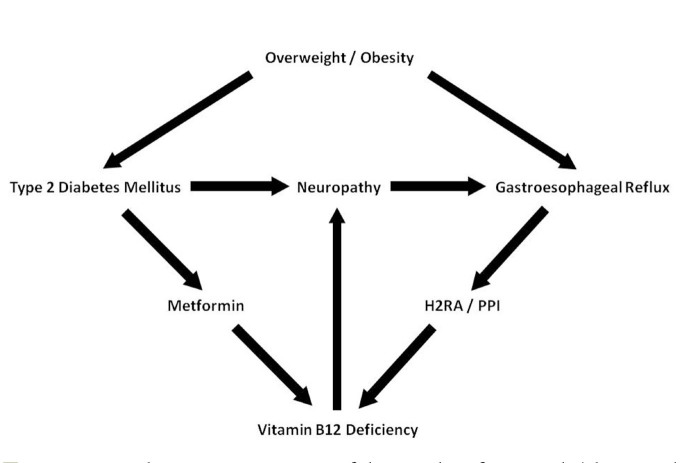 It then may seem natural that PPIs and H2RAs cause anaemia. Let's look at some of the evidence.
The prevalence of anaemia is increasing. "From 2003–2004 to 2011–2012, the overall prevalence of anaemia and moderate-severe anaemia nearly doubled from 4.0% to 7.1% and 1.0% to 1.9%, respectively (2)".
It is hard to find a study on the rate of PPI use that matches the timeline of the above. However, a study looking at the PPI prescribing in US emergency department found that prescribing more than doubled from 2001 to 2010 (3). And there are numerous studies that show they are routinely prescribed even though the patient has no documented indication (4)(5).
"Of the 98 patients on chronic PPI therapy who met inclusion criteria, 35% had no documented indication for such therapy (5)."
A quick reminder, that even though there's a cohort study showing an association between PPI use and anaemia (5), correlation is NOT causation.
But there have been numerous case reports of PPI induced iron deficient anaemia (6-8).
What about H2RAs? They have been found to reduce B12 and iron levels as well (9). However, they might not be as bad as PPIs. In one of the cases of PPI induced iron deficient anaemia switching to H2RA cured the anaemia (6).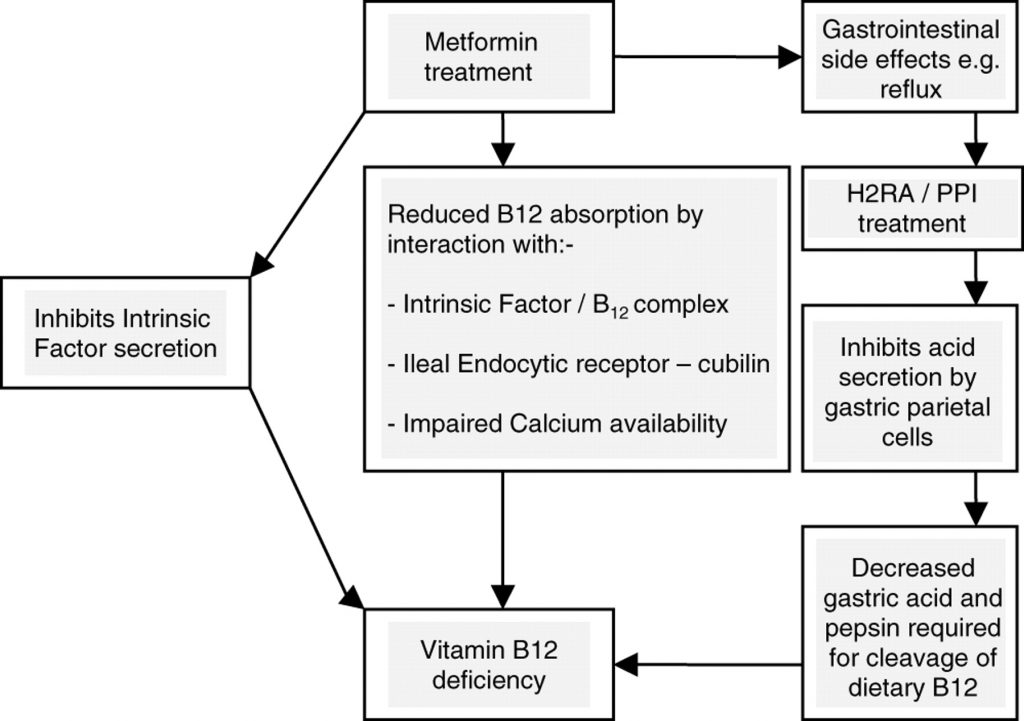 Reduction in iron and B12 levels can be seen in patients using PPIs for 12months (the reduction may not be clinically relevant) (10).
So if the patient's stomach acid‐related disorder is well controlled, consider:
stopping treatment (unless patient has severe oesophagitis or complicated disease)
intermittent use when symptoms develop
step down to low-dose therapy (11)
References
Patel KV1. Semin Hematol. 2008 Oct;45(4):210-7. doi: 10.1053/j.seminhematol.2008.06.006. Epidemiology of anemia in older adults.
Chi Huu Hong Le. The Prevalence of Anemia and Moderate-Severe Anemia in the US Population (NHANES 2003-2012). Published: November 15, 2016https://doi.org/10.1371/journal.pone.0166635
Mazer-Amirshahi, Mullins, van den Anker, Meltzer, Pines. Rising rates of proton pump inhibitor prescribing in US emergency departments. Am J Emerg Med. 2014 Jun;32(6):618-22. doi: 10.1016/j.ajem.2014.03.019. Epub 2014 Mar 21.
Wermeling , Himmel W, Behrens G, Ahrens D. Why do GPs continue inappropriate hospital prescriptions of proton pump inhibitors? A qualitative study. Eur J Gen Pract. 2014 Sep;20(3):174-80. doi: 10.3109/13814788.2013.844787. Epub 2013 Nov 13.
Sarzynski, Puttarajappa C, Xie Y, Grover M, Laird-Fick H. Association between proton pump inhibitor use and anemia: a retrospective cohort study. Dig Dis Sci. 2011 Aug;56(8):2349-53. doi: 10.1007/s10620-011-1589-y. Epub 2011 Feb 12.
Hashimoto, Matsuda T, Chonan A. Iron-deficiency anemia caused by a proton pump inhibitor. Intern Med. 2014;53(20):2297-9. Epub 2014 Oct 15.
Dado DN, Loesch EB, Jaganathan SP. A Case of Severe Iron Deficiency Anemia Associated with Long-Term Proton Pump Inhibitor Use. Curr Ther Res Clin Exp. 2017 Jan 21;84:1-3. doi: 10.1016/j.curtheres.2017.01.003. eCollection 2017.
Imai R, Higuchi T, Morimoto M, Koyamada R, Okada S. Iron Deficiency Anemia Due to the Long-term Use of a Proton Pump Inhibitor. Intern Med. 2018 Mar 15;57(6):899-901. doi: 10.2169/internalmedicine.9554-17. Epub 2017 Nov 20.
Aymard JP, Aymard B, Netter P, Bannwarth B, Trechot P, Streiff F. Haematological adverse effects of histamine H2-receptor antagonists. Med Toxicol Adverse Drug Exp. 1988 Nov-Dec;3(6):430-48.
Qorraj-Bytyqi H, Hoxha R, Sadiku S, Bajraktari IH, Sopjani M, Thaçi K, Thaçi S, Bahtiri E. Proton Pump Inhibitors Intake and Iron and Vitamin B12 Status: A Prospective Comparative Study with a Follow up of 12 Months. Open Access Maced J Med Sci. 2018 Mar 12;6(3):442-446. doi: 10.3889/oamjms.2018.142. eCollection 2018 Mar 15.
Australian Medicines Handbook. Adelaide: Australian Medicines Handbook Pty Ltd; 2018.